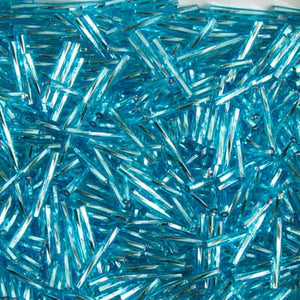 Czech Twisted Bugles 25mm S/L Aqua
Czech Bugles 25mm long. Each bag contains 25 grams.

Czech seed beads are also known as PRECIOSA Bugles or PRECIOSA Bugle Beads.
HISTORY
This type of goods has had its own tradition in the Zásada area since the 2nd half of the 19th century, when they were mainly sewn onto ladies' evening gowns or used to make handbags, as decorations on footwear and so on.